Message from Portsmouth Water, 2 August 2023: Public access to the Havant Thicket Reservoir site
Ahead of the main construction phase for the reservoir getting underway in Spring 2024, Heras-style fencing (around two metres in height) has been installed around the site. This is primarily for safety reasons, so that a range of preparatory work can be completed safely and efficiently in the coming months. It will also mean the site is ready for building work to begin in earnest next year.
As shown on the map below, several parts of the site will remain open to the public throughout, in line with our commitment to enable public access during construction of the reservoir. The areas concerned are as follows:
Memory Park woodland, which is on the western side of the site, next to Swanmore Road, Havant
The area to the south of Memory Park, which borders Staunton Country Park
Gipsies Plain, on the eastern side of the reservoir site, next to the twin roundabouts linking Manor Lodge Road and Durrants Road in Rowlands Castle.
We will share an update on designated viewing areas for the public at our next Strategic Advisory Group meeting.
The bridleway that runs east / west across the reservoir site is also due to close. This will be no earlier than Monday 14th August, with the date to be confirmed nearer the time. The temporary diversion will run to the north of the reservoir site, through Havant Thicket woodland.
The diversion route is marked in blue on the map and will be clearly signposted once it's in place. New signs will also be put up on and around the reservoir site, so that visitors are aware of where they are able to go.
Local authorities have reviewed and approved the changes to public access, and these are being carried out in accordance with Portsmouth Water's approved planning application for the reservoir.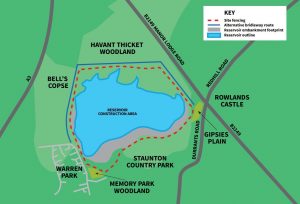 Access through Havant Thicket woodland
In addition, the route of the new Northern Access Route for the reservoir, which follows the path of an existing Forestry England track through Havant Thicket woodland, is now fully closed to the public and fenced off. This arrangement has been planned in liaison with our colleagues at Forestry England.
The map below shows the path of the route that closed, which runs along the northern and western edge of Havant Thicket woodland. As you would expect, clear signage is in place, to inform visitors of the closure and alternative routes.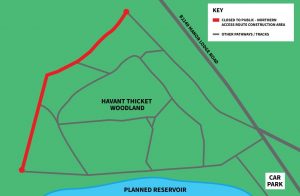 We are very grateful to you and our local communities for everyone's patience and understanding about us needing to restrict public access to the reservoir site at this time. Our goal remains to maintain safe access for visitors as far as possible during this period.
As always, if you have any queries or comments, please do not hesitate to get in touch.