Rowlands Castle Parish
The Parish is located on the border of Hampshire and West Sussex, just off the A3(M), and partially within the South Downs National Park. The main village of Rowlands Castle has a primary school, a surgery and adjoining pharmacy, a café, a variety of shops and pubs, and a railway station on the main London-Portsmouth train line...
Council Business
The Parish Council is an elected corporate body in the first tier of local government. It is granted powers, and is subject to regulation, by Parliament. It has the authority to raise money through taxation (the Precept) and the power to spend public money in accordance with its powers...
Report an Issue
To alert the Parish Council to issues it has the powers to resolve, ie on land for which it is responsible, please use the link below for our online report form. For other concerns please see the list and relevant links on the page itself.
Recent News
The next EHDC Community Forum is on Wed 14 December 2016 in Merchistoun Hall, 106 Portsmouth Road, Horndean PO8 9LJ from 6.30pm. The Police will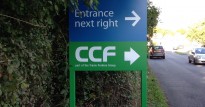 Keyline Signage
Posted Oct 31, 2016 By Lisa Walker
New and more visible signage to Keyline and CCF will hopefully stop HGVs 'over-shooting' the driveway and ending up in the village centre. Thanks to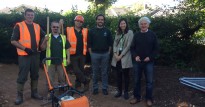 Developers Contributions from the Oaklands I development at the top of Redhill Road have enabled improvement works to the Keyline driveway end of the bridleway.
Parish Events Diary