Current Projects
In addition to its statutory duties and the day-to-day running of the Parish, the Council is often involved with specific projects as part of its Strategic Objectives.
Go Ahead for Development of a Neighbourhood Plan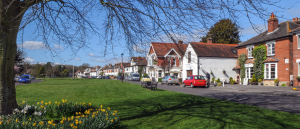 At an Extraordinary Meeting of the Council on 23 March 2017, it was resolved to develop a Parish Neighbourhood Plan. This decision was taken in light of the overwhelming support for such a Plan from those who had responded to the Council's six-week Consultation on the subject. At a subsequent Public Meeting on 15 May 2017, a Neighbourhood Plan Steering Group (NPSG) was formed, including the appointment of members and the election of a Chairman. Gill Whatley, Council's Administrative Assistant, also agreed to act as Administration Co-ordinator for the Group. The Group can be contacted on projects@rowlandscastlepc.org.uk or via the Parish Office – see Contact for more details.
A Neighbourhood Plan is a local development plan for a specific place (in our case, the Parish). It is drawn up by a community working with the local planning authority (in our case, East Hants District Council and South Downs National Park Authority) and is approved by an independent inspector before going to a community referendum. Once approved, the Neighbourhood Plan will be a legal document that seeks to influence future planning decisions within the Parish until 2036.
The vision for the Neighbourhood Plan is to conserve and enhance the Parish of Rowlands Castle as an attractive community whilst maintaining its separate identity, character and distinctiveness.
In October 2018 all households within the Parish received a copy of the Rowlands Castle Neighbourhood Plan (RCNP) Survey about future housing and other needs within the Parish of Rowlands Castle. The NPSG was very pleased with the number of surveys which were returned completed. The exercise gave everyone an opportunity to engage with the RCNP with the aim of helping to ensure the Parish continues to be a place where we all love to live.
Early in 2020 the NPSG engaged John Slater Planning to advise on the draft Plan and as part of its recommendations, a Settlement Character Assessment was produced by Terra Firma Consultancy in September 2020, as referred to in the Autumn 2020 edition of the Village & Valley magazine.  This detailed report describes the key characteristics of the main built areas within the Parish, and includes future Development Considerations and recommended Management Objectives for preserving and enhancing the character of these areas.  A PDF copy of this document is available to view here: Rowlands Castle Settlement Character Assessment in PDF Format   If you require a hard copy or the document in a different format, please contact the Parish Office here: Contact details for Parish Office.
For copies of the Reports made by the NPSG Chairs to the Parish Council at regular intervals, please see:
2021.02.01
2020.10.05
2020.05.04
2020.03.02
2019.11.04
2019.03.04
2018.12.03
2018.10.01
2018.05.14
2018.02.05
2017.12.04 (incorrectly dated 2018 on Report)
2017.09.04
For more information, please see:
Current Terms of Reference for NPSG
Notes of Public Meeting on 15.05.17
Confirmed Minutes of Extraordinary Council Mtg on 23.03.17
Results from Consultation on Potential Parish Neighbourhood Plan
Display Boards for NP Exhibition in February 2017
RCPC Chairman's Welcoming Address to NP Exhibition in February 2017
Leaflet on Potential for RC Parish Neighbourhood Plan December 2016
Project Feedback Form